Options & Upgrades
With lots of options and upgrades to choose from, ordering a
​custom building is an easy task.
Let us know what you want and we will customize it to fit your specific needs.
​Add a Shelving Package or a Workbench
Shelving
$ 6.00 per foot for Single Tier
(7/16" OSB Decking: 21" deep or 24" Deep depending on placement)

Workbench
2 Tier $ 12.50 per foot - 1 Tier $ 6.50 per foot
(3/4" Plywood Decking: top 25.5" deep, bottom 22.5" deep)
Porch Package
Add a 4 ft Porch Package $ 10.50 per square foot.
FLOORING UPGRADES

Upgraded Floor Joist to
12" O.C. $ .50 per square foot

SIDING UPGRADES
​
Upgrade from Aluminum Lap Siding to Steel Lap Siding
$ 3.75 per perimeter foot

BOXED EAVE UPGRADE

Upgrade to a Boxed Eave Roof $ 4.50 per perimeter foot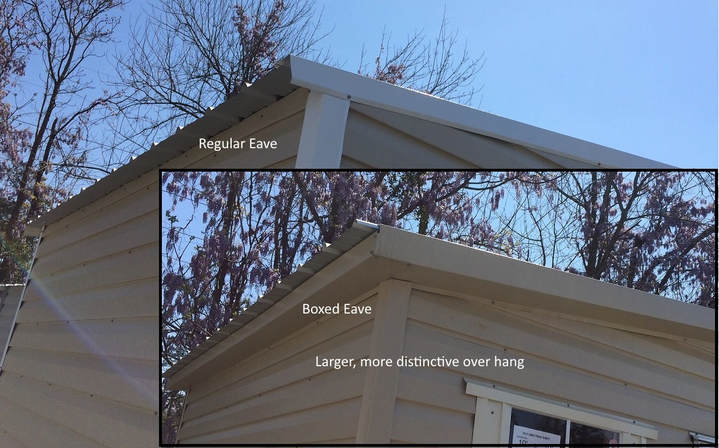 DOOR OPTIONS & UPGRADES

Add an Additional 48" x 72" Single Door $ 350.00
Change Standard 48" x 72" Single Door to a 72" x 72" Double Door add $ 250.00
Add an Additional 72" x 72" Double Door ​$ 575.00

Change Standard 48" x 72" Single to a Cottage Door add $ 150.00
Change a 72" x 72" Double Door to a Cottage Door add $ 200.00


Standard Color Door is Polar White.
Upgrade to ​Colonial White or Tan $ 35.00 single or double.
​
Add a Garage Door
*7 ft wide x 6.5 ft h $ 515.00
*8 ft wide x 6.5 ft h $ 565.00 ​(79" max clearance)​
(*must have high wall option to install a garage door in end wall)
*High Wall Option $ 4.50 per perimeter foot
WINDOW OPTIONS & UPGRADES

Additional 22" x 36" White Windows w/screen $ 85.00
35" x 36" White Windows w/screen $ 125.00
​12" x 12" Loft Type Window $ 50.00
(Addition $ 25.00 charge if window does not fall on 2 ft increments from a corner)
All windows include Metal Shutters & Trim
ROOF OPTIONS
ADDITIONAL OPTIONS

A/C Frame Out: $ 50.00
High Wall Option $ 4.50 per perimeter foot - 10" increments